Broadmoor Hospital struggling to recruit nurses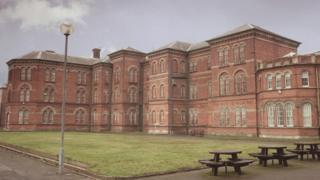 Care at Broadmoor high-security hospital has improved but it is still struggling to recruit nurses, a report has found.
The psychiatric facility was criticised last year over a lack of staff affecting patient care.
Care Quality Commission (CQC) inspectors found positive changes, but said there were 50 empty posts.
West London Mental Health NHS Trust said it had "put in place a wide range of improvements".
'Rightly proud'
In December the hospital in Crowthorne, Berkshire, was issued with a CQC warning notice when an inspection found a lack of qualified nurses was "affecting the care and treatment" of patients.
The most recent inspection in July found better patient access to therapeutic activities and that most patients interviewed "were positive about the support provided in the hospital".
The CQC report also noted that the hospital's recruitment strategy has improved, reducing the number of vacancies from 68 in November to 50 in August.
But it added the amount of empty posts was "still significant" and has "continued to adversely impact on the consistency of patients' access to meaningful activities".
It has replaced the warning notice with requirement notices.
West London Mental Health NHS Trust chief executive Carolyn Regan said: "Clearly we have more work to do to continue to embed improvements, but staff at Broadmoor Hospital can be rightly proud of the great progress made so far."
Broadmoor, which has housed infamous killers including Peter Sutcliffe and Graham Young, is undergoing a £242m overhaul to move away from its image as an outdated Victorian institute.