Trains delayed by cows on the line in Mortimer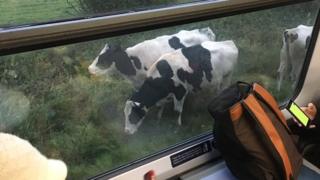 A herd of cows has caused train delays by straying on to a railway line.
About 30 cattle were spotted walking on and next to the track near Mortimer, Berkshire, shortly before 07:30 BST.
Cross Country confirmed its service between Reading and Basingstoke was delayed by 50 minutes as a result of the animals wandering on to the line.
Network Rail, which closed the line while the animals were escorted back to their farm, has apologised for the resulting delays.