Parents 'kept in the dark' over nursery safeguarding fears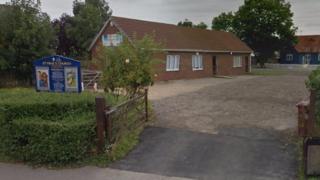 Parents say they have been "kept in the dark" after a children's nursery was shut over safeguarding concerns.
Ofsted suspended Bubbles at St Paul's Church, Reading, on Tuesday 9 November after concerns were raised that a child "may be exposed to risk of harm".
Parents demanding answers said the silence a week on from the closure was "disgusting".
Greyfriars Ministries Ltd, owner of the nursery, said it had acted "swiftly" and was working with Ofsted.
'Right to know'
The nursery in Whitley Wood Lane caters for up to 24 children and it is understood about 40 families are affected by the suspension.
Laura Critchley, who has a young son at the nursery, said: "Whatever the situation is, we have the right as parents to know what is going on.
"How it's been dealt with is unprofessional. It's really heartbreaking for all of us to just sit here in silence and be kept in the dark."
Ms Critchley said the closure had had a "massive impact" on her son.
In a statement, Greyfriars said the welfare of the children in its care was "paramount".
The nursery owner added: "In line with Ofsted procedures, the nursery will be closed during the investigation."
Ofsted said it was unable to comment while the investigation was ongoing, while Reading Borough Council added it was working to find alternative provision for families affected.
Thames Valley Police has been contacted for comment.