Windsor Castle's permanent anti-terror barriers to cost £1.9m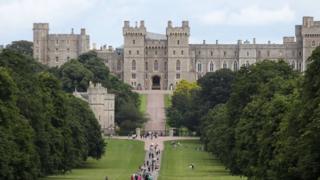 Permanent anti-terror barriers will be placed on roads surrounding Windsor Castle at a cost of £1.9m, the borough council has said.
Temporary barriers designed to prevent vehicle attacks were installed in March after a car was used to run down pedestrians in Westminster.
The council said some of the money would be spent on ensuring the barriers "blend into their surroundings" and could be moved for pageantry events.
Work on the project will start in 2018.
The large metal barriers were originally installed in March after 52-year-old Khalid Masood used a car to kill four pedestrians and injure 50 more in central London, before he stabbed a police officer to death.
They were described as "ugly" and "over the top" by some residents, but police insisted the measures were necessary.
Phillip Bicknell, cabinet member for highways, said it was important the new permanent barriers' appearance did not detract from the historical setting.
He said the costs would be split between the Royal Borough of Windsor and Maidenhead and Thames Valley Police.