Gee Smith death: Mum's tribute to 'one in a billion' son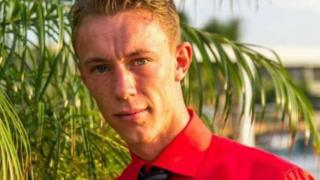 The mother of a man who died after being stabbed has paid tribute to her "one in a billion" son.
Gee Smith, 29, died in the early hours of Saturday after he was found injured at a property in Dart Close, Finchampstead, Berkshire, on Friday.
In a statement, his family said he was "the best son, brother, uncle, nephew, cousin and friend anyone could have asked for".
Anthony Wheaton, 24, of Dart Close, has been charged with murder.
Mr Smith's mother Karyl told how her son was "full of life", "lived life to the max" and "truly had a heart of gold".
She said: "They broke the mould when I gave birth to Gee, he truly was one in a billion. There will never be another like him.
"He would help anyone and everyone who needed his help.
"He was devoted to his nieces and nephews. They were his world and he adored them. Many also saw him as a father figure."
The family spoke of Mr Smith's love for fast cars, motorbikes, horses and boxing.
They added: "Our hearts are broken."
Mr Wheaton appeared at Reading Crown Court on Tuesday and was remanded in custody.