Driver tells veteran to 'get another leg' in Woodley parking row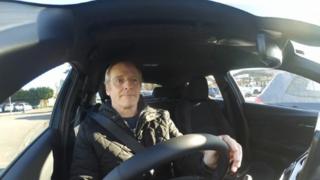 A veteran amputee says a taxi driver he asked to move from a disabled parking space told him to "go get another leg".
Gary Whittle, a former RAF engineer who has a prosthetic right leg, said the man refused to move from the bay at Woodley Library car park in Berkshire.
The 54-year-old said the driver told him he was "not important" as he waited to pick up a fare.
Police have appealed for witnesses to the incident, which happened at 12:15 GMT on 23 November.
Mr Whittle, who lost his leg below the knee in a motorcycle accident in 1983, said he had wanted to park in the space so he could buy sandwiches for a disabled friend.
The taxi driver, who was in a silver Toyota Prius, shouted a barrage of abuse after refusing to move, Mr Whittle said.
Upset and angry
Mr Whittle, from Lower Earley, near Reading, said the verbal attack had left him "frightened" and he had had problems sleeping since.
He added: "It upset me and it made me quite angry that somebody would abuse a random disabled person for no good reason.
"Why would you think a person was any less of a person because they only had one leg?"
Thames Valley Police said it wanted to speak to a woman who booked the taxi.
The taxi driver was described as a 5ft 9ins, clean shaven Asian man in his early 40s, with a large build and short dark hair.