Train named after Paddington Bear creator Michael Bond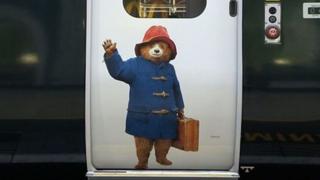 A train has been named after the creator of Paddington Bear, Michael Bond, who died last year.
The Great Western Railway train, which travelled from Reading to London earlier, was unveiled at Paddington Station.
Mr Bond's daughter Karen Jankel attended the ceremony on platform one, the spot where the fictional bear first arrived "from darkest Peru".
She described the unveiling as "a huge honour".
She said her father, who was born in Newbury and grew up in Reading, often thought the station's name would be a good name of a character when he travelled to the capital.
She added: "Had he lived in another part of the country or not travelled by train, he might never have come up with the idea for a bear being found on Paddington station.
"I grew up with Paddington, he's been a part of a family for the whole of my life, so it's lovely to think that he means so much to so many other people as well."
It was a chance encounter with a toy bear in a London shop on Christmas Eve in 1956 which spawned Mr Bond's idea for the famous character.
He took it home as a stocking filler for his wife and called it Paddington because they were living near Paddington Station at the time.
While musing over a typewriter and a blank sheet of paper, he wondered what it would be like if an unaccompanied bear turned up at a railway station looking for a home.