New hope for scrapped £8m Theale Primary School project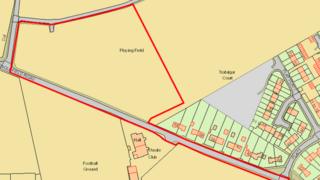 A scrapped plan for an £8m primary school in Theale is back on the table following a spat between two councils.
The project had been binned after West Berkshire Council claimed Theale Parish Council failed to relinquish the land.
But the parish council then accused the larger authority of ignoring a letter offering further discussions.
Both parties are now going to meet next week with Reading West MP Alok Sharma to discuss the future of the project.
The plan for the school at the North Street playing fields was approved last summer after being discussed for four years.
But "continued delays" by Theale Parish Council over concerns about the school's location and loss of football pitches led the plan to be "halted", West Berkshire Council said.
'Misleading and inaccurate'
The parish council released a statement on its website on Wednesday saying that "no response or acknowledgement" was ever received to a letter offering "further discussions".
But West Berkshire Council called the claim "misleading and inaccurate", releasing its own statement that it had "formally responded" to the letter.
West Berkshire Council leader Graham Jones said: "It is disappointing that rather than make a decision on whether to release this land Theale Parish Council is choosing to spread misleading information about a lack of dialogue with us.
"It is a shame that we are having to talk about this when we should be talking about the education of future generations of children in the village."
Theale Parish Council has been approached for comment.