Concern for ex-Royal Ballet School pupil missing in blizzard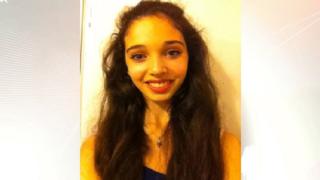 A seriously ill former Royal Ballet School student has disappeared after walking out of a hospital without shoes during Thursday's blizzard conditions.
Ashleigh Fair, 19, was seen leaving the Royal Berkshire Hospital in Reading at around 09:30 GMT.
Police believe she may have taken a taxi from a road near the hospital to Marble Arch, London, arriving at 11:37.
She has a life-threatening condition and requires urgent medical assistance, Thames Valley Police added.
When she left the hospital, Ashleigh was wearing a green and pink knitted jumper, black tracksuit bottoms and pink socks.
Det Sgt Emily Evans said: "We are very concerned for Ashleigh's wellbeing.
"She is vulnerable and unwell, and we are also concerned that she is not wearing appropriate clothing for the weather."
Police are asking anyone who has seen her to call 999.