Theale station 'will not be fully accessible to disabled for up to six years'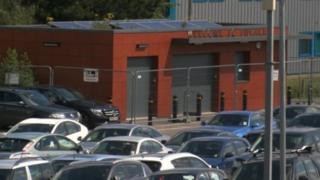 A train station being redesigned to improve accessibility will not be fully open to the disabled for up to six years.
A new ticket office being constructed at Theale, Berkshire, by Great Western Railway (GWR), will open this year and will be wheelchair accessible along with one platform, GWR said.
However, work by Network Rail to create a new bridge and lifts may not be finished until 2024, the firm admitted.
Work originally began in 2013.
It was given the go-ahead by the Department of Transport (DoT) as part of its access for all programme.
Network Rail said the delay was due to the office having to be moved by GWR because its original position could not be accessed safely during its construction work.
The £2.9m redevelopment, which also includes plans for a car park and pedestrian entrance, was originally expected to be finished by February 2014.
"Inclusive design solutions will create an obstacle free, accessible route" to allow disabled people to enter the station and access all platforms, Network Rail said.
But it could only confirm the work will take place at some point in the next six years.