Crash driver Ian Lloyd-Owen had no licence for 40 years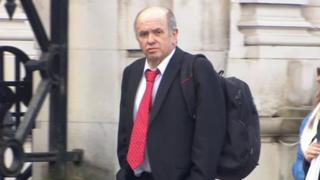 A man who drove for more than 40 years without a full licence before he caused a fatal crash on the M4 motorway has been given a suspended jail term.
Ian Lloyd-Owen killed Gunatharshiga Koneswaran, in the crash, in Berkshire.
Lloyd-Owen, 61, of Maidenhead, had driven his Jaguar XF into the back of a VW Touran in which Mrs Koneswaran was a passenger.
At Reading Crown Court, he was found guilty after originally denying causing death by careless driving.
The court heard Lloyd-Owen failed his driving test in his teens but was ashamed to tell his family.
He had seven seconds to avoid the crash but drove into the vehicle at about 70mph, the jury was told.
Bicycle fell in road
The crash happened on 3 July 2016 on the eastbound M4, between junctions 15 and 14 near Hungerford.
The court heard the Touran had stopped because of a bicycle in the road which had fallen from the back of another car.
Mrs Koneswaran, from Hounslow died at the scene. Her two daughters and her husband, who was driving, were seriously hurt.
Lloyd-Owen, who was found guilty after a trial last month, received a 12-month prison sentence suspended for two years.
He was also convicted of causing death while driving unlicensed, for which he was given a three-month concurrent suspended term.
Provisional licence
Passing sentence, the judge accepted the crash had been caused by a lapse in concentration and not because he was unlicensed.
Her Honour Judge Maria Lamb said: "It is hard to believe an intelligent man... has not only persisted with that lie but has not tried to remedy it by taking the test."
Thames Valley Police said Lloyd-Owen had failed his test in his late teens and had only held a provisional licence since.
Police investigator Richard Thorpe said: "The fact that Lloyd-Owen didn't have a licence didn't have an effect on what he did that day.
"But he had been committing that offence every single day for the past 40 plus years that he had been driving knowing full well he didn't have a licence."