Eye and Dunsden campaigners raising fighting fund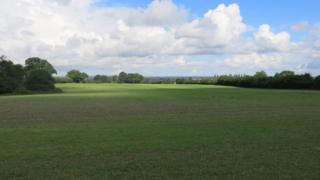 Campaigners fighting plans for a 245-home housing estate on farmland are crowdfunding for what they describe as a "David and Goliath" battle.
They want to raise £10,000 to assemble a team of legal and planning experts to stop developer Gladman.
Campaign Against Gladman in Eye & Dunsden (CAGE) say the project would "triple the population" of the tiny parish near Reading, Berkshire.
Gladman said it did not wish to comment at this stage of the process.
'A big fight'
The developer's original bid was rejected by South Oxfordshire District Council in September after a year-long campaign.
Seven neighbouring parish councils and Reading Borough Council opposed the plans and 342 people had submitted objections.
They argued the extra homes on 32 acres (13 hectares) of farmland would put a strain on schools and roads.
Gladman, which featured in a recent BBC Countryfile programme on buying up farmland to sell on to developers, is to appeal against the original decision in May.
CAGE states on its crowdfunding page: "Every pound you can give will help Eye & Dunsden and its allies win. And our 21st Century David could beat his Gladman Goliath."
Clare Grashof from the campaign group said: "Make no mistake, this is a big company that we're going up against.
"It's a big fight and it's going to be really difficult to win it."