Plans for £32.8m leisure centre in Maidenhead passed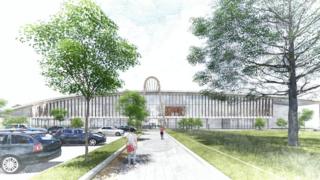 Plans to build a £32.8m leisure centre featuring a 10-lane swimming pool and gym have been passed.
Braywick Leisure Centre in Maidenhead will open in December 2019 as part of a development at Braywick Park.
Windsor and Maidenhead Council confirmed the project had been given the go ahead by the government.
The leisure centre will replace the 40-year-old Magnet facility, which the council said was "nearing the end of its serviceable life".
The new facility will use 70% less energy than the Magnet and will include a "children's splash area", a spokesperson for the council said.
Samantha Rayner, cabinet member for culture and communities, said: "This cutting-edge leisure centre will help residents of all ages and abilities lead healthier and happier lives as we build a borough for everyone."
The new centre will be built in the surroundings of Braywick Park sports and recreation ground, which already has facilities including football pitches and a running track.