Philip Askew trial: Skater 'confronted by accuser's parents'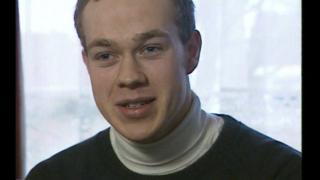 A champion ice dancer accused of raping a girl under 16 was confronted by her parents after they read about it in her diary, a court has heard.
Philip Askew, 44, denies assaulting the girl in 1995 when he was 21 years old.
At the time, Mr Askew was a star skater and coached young people at Bracknell ice rink, Reading Crown Court heard.
The confrontation took place in a meeting arranged by the manager of the ice rink, the girl's father said.
He told the jury Mr Askew was "dismissive" and "arrogant" from the outset of the conversation with himself and the girl's mother.
Asked by prosecutor Barry McElduff what the reason for the meeting was, he said: "To confront him [Mr Askew] over the fact he had sex with [his daughter]."
"Felt like screaming"
He told the court the manager of the ice rink, Chris Howarth, had arranged the meeting after they contacted him with concerns after reading their daughter's diary.
He said: "Chris said he had interviewed Philip Askew but that he hadn't admitted anything and offered us the chance to meet directly with Mr Askew, and we accepted."
The girl's father explained that after the meeting they decided as a family not to take matters any further.
The court heard evidence that Mr Askew continued to work at Bracknell ice rink for up to 18 months after the confrontation.
Earlier, the sister of Mr Askew's accuser gave evidence about finding the diary and reading about the assault.
"I remember she wrote that she felt like screaming but was just very quiet," she said.
"I remember she wrote that she didn't want it and she was very scared.
"The last words I remember her writing were that she was no longer a virgin."
The trial continues.