Further education staff protest over 1% pay rise delay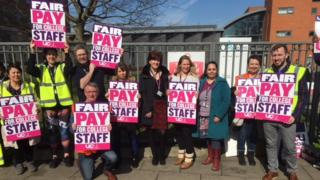 Staff at five further education sites have protested over what they claim is "indecision" about pay increases.
Lecturers and other staff at Activate Learning sites in Reading, Oxford, Bicester, Banbury and Blackbird Leys took the action in their lunch break.
They say they should have been given a 1% rise after a recommendation from the Association of Colleges.
Activate Learning said it had "worked hard" so staff would get the rise but there would be a delay in payment.
Dr Richard Beckett, a lecturer at Reading College, said it was "only fair" staff received the rise, which their union, UCU, says should have been paid in August 2017.
He said: "The price of living means that people cannot afford to teach or work in Reading.
"Lots of people are packing their bags and going to places where the standard of living is cheaper, because they get the same salary but a lower cost of living."
For staff working in further education, nationally recommended pay awards are only advisory, so colleges are not obliged to pay it.
Activate Learning said "many other colleges have not been able to afford" to pay the 1% rise, which is still below the current rate of inflation of 2.7%.
A statement said: "The group has made an affordable and sustainable award and is committed to attracting and retaining the best staff."
No teaching was disrupted as a result of the protests.