Euro 96 'awesome sight' at Villa Park recalled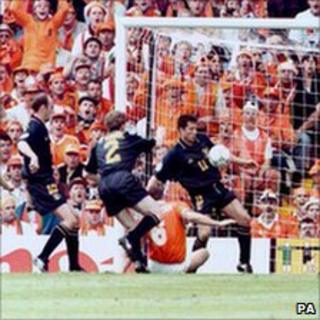 If England's bid to stage the 2018 World Cup finals is successful this week, West Midlands football fans will be able to watch big international games down the road.
But not for the first time. Under the England bid, Villa Park will host matches, just as the stadium did in Euro 96 and at the 1966 World Cup finals.
The record books show that on 10 June 1996 Holland and Scotland played out a goalless draw.
But one official's memory of the encounter at Villa Park demonstrates the positive side of hosting matches in major tournaments.
"What I'll never forget was walking up the steps into the directors' box to take my seat," said Steve Stride, then Aston Villa secretary.
"There was such a mass of orange from the Holland supporters.
"They completely covered half the stadium and it was just really an awesome sight.
"Coupled with that was Scottish supporters with their blue and white flags and whatever and it was one of the most incredible atmospheres I've ever experienced at a football game."
'Great mood'
Stride was certainly well placed to assess the occasion, as more than 34,000 football fans cheered on their favourites.
As a 15-year-old Villa fan, he had also seen some of the best players in the world at the ground in the 1966 World Cup finals.
Thirty years on from flickering black-and-white television images it was a very different world, as Dutch fans and others descended on Birmingham.
Stride said: "Our lunch was based in the city and I remember as we drove out, they were all marching from the city centre down to Villa Park.
"Of course the Dutch dress up, they all wear orange to a man, to a woman. Then they've got these funny hats on and trumpets and whatever, but it was just brilliant.
"I did have a few fears with Holland playing Scotland that there might be some punch ups along the way, but nothing like that whatsoever. Everybody was in a great mood."
Stride remembered the other games in the city in 1996 did not have "quite the same impact".
But the Dutch did find the net when they returned to Villa Park three days later to enjoy a 2-0 win over Switzerland.
Little did the jubilant orange-wearing fans know their team was about to be humbled 4-1 by England at Wembley.
Scotland beat Switzerland 1-0 in another Group A game at Villa Park and the stadium also hosted the Czech Republic's quarter final win over Portugal by the same scoreline - watched this time by about 26,800.
Some attendances had approached double that figure when Villa Park hosted three group matches in the World Cup three decades earlier.
Crowds of up to 51,000 were at the ground to see Argentina, Spain and West Germany.
Asked about the atmosphere, Stride said: "[It was] obviously totally different, because I'd been used to seeing Villa matches there. [It was] sort of a carnival occasion around the stadium.
"Argentina-Spain was quite a sort of calypso atmosphere - I just remember lots of flags and banners.
"There was obviously some requirement to have a certain number of seats within a stadium.
"So they put temporary seating in the old Witton End terracing, which later became the North Stand.
"Back in '66 it was really a much lower key event. The marketing team didn't move in and dress the stadium as they do nowadays.
"It was just Villa Park with some seats added on at the Witton End and carry on as you are sort of thing.
"But nowadays when they host an event at a neutral stadium they come in weeks before and take it over and take down all the advertising boards [and] put their own up."
Stride remembered the extra revenue for the city and the "great feel good factor" in Birmingham in 1996.
He said: "Financially there was something in it for the club, but it wasn't earth-shattering amounts - can't remember what it was, but it wasn't done for that reason.
"At the end of the day you just get this massive sense of satisfaction that you've put this event on and it's gone off smoothly."