Birmingham reacts to failed 2018 World Cup bid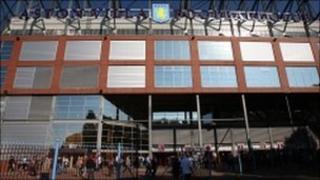 The failure of England's World Cup bid is a "huge disappointment" for Birmingham's business community, the chamber of commerce said.
Villa Park was part of the bid, but football's governing body Fifa picked Russia to stage the 2018 event.
Ex-Villa captain Ian Taylor said the news was a "major disappointment".
John Lamb, from the chamber, said: "We would have expected businesses to have made about £150m out of the World Cup coming to this country, to Birmingham."
He added: "I'm old enough to remember 1966 and the excitement that generated and [it's a] great pity we're going to miss out on that."
'Hugely disappointing'
A secret ballot of Fifa's 22 executive members in the Swiss city of Zurich on Thursday decided the winners.
Spain/Portugal and Belgium/Netherlands were also competing for the right to be the 2018 hosts. Twelve cities have been part of England's bid.
Taylor, a supporter of the bid, said: "I thought that Russia might get it to be honest, mainly because they've not had it before."
Another high-profile supporter of the bid, former West Midlands footballer Brendon Batson, said: "One of the problems is the general public don't understand the process and until we can sort of demystify what that process is, we'll always be in the dark as to why we didn't get it."
The former West Bromwich Albion player added: "You look at our bid and you're thinking it does stack up against the others and the other people will say 'well our bid stacks up' as well, but nobody knows.
"It's down to 22 people and to get defeated in the first round is hugely disappointing."
Qatar was awarded the 2022 World Cup. Australia, the United States, South Korea and Japan were also hoping to land the tournament.