Burglary victims in Solihull get hamper gifts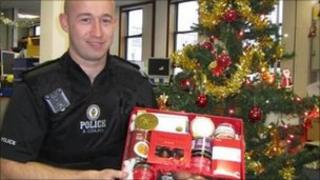 Police officers in Solihull have tried to lift the spirits of 52 people who have been victims of crime by delivering Christmas hampers.
Officers chose people who had recently experienced serious anti-social behaviour or distraction burglaries.
Insp Karen Winfield said: "We hope this small gesture will help bring some comfort following a difficult time they have experienced."
West Midlands Police worked with Shirley Round Table on the scheme.
Eddie Halliday, chairman of Shirley Round Table, said the charity donated about £1,500 to the scheme which it has been involved in for about 10 years.
"It aims to raise the spirits of people and show them that people do care," he said.
Round Table members raised about £5,000 by taking their Christmas sleigh round the streets of Shirley and Hall Green during December.
Shirley Round Table has also donated £1,000 to buy Christmas presents for children in care in the area.