Birmingham binmen call off further strikes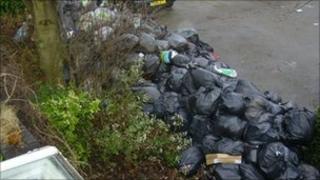 Strikes by refuse collectors in Birmingham, due to be held on Thursday and Friday, have been called off.
Unions who represent bin collectors have been holding meetings with Birmingham City Council representatives to try to resolve the dispute.
Binmen have been striking and working to rule for several weeks over a pay dispute which unions said would see them lose £4,000 per year.
The work to rule has also been lifted. Talks are continuing.
In a statement, the city council said an agreement had been reached between itself and trade unions which will see industrial action suspended.
"The joint trades unions have agreed to suspend industrial action which includes the half day strikes which were due tomorrow, Thursday 13 and Friday 14 January and the work to rule," the statement said.
Talks are continuing with a view to reaching a successful conclusion to the dispute subject to agreement by both sides and a membership vote, the statement said.
About 480 staff were involved in the dispute which arose from the legal duty of councils across the country to ensure equality in men and women's pay rates.
Teams of casual workers were brought in to help clear the backlog which saw some areas of Birmingham miss four collections.