Lib Dem MP John Hemming says cuts are necessary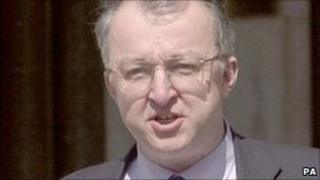 The cuts introduced by the coalition government are necessary to stop the country "going bust", a Lib Dem MP said.
John Hemming, MP for Birmingham Yardley, said the country, at the time of the election, had been on the verge of "going bust".
"We are not anymore and that is the important thing," he said.
Mr Hemming has previously been targeted by students, angry at what they see as the Lib Dems going back on promises.
His office was taken over in December by students urging him to vote against a rise in tuition fees.
Speaking in an interview with BBC WM, Mr Hemming said if the country had faced similar economic problems to Ireland or Greece, then major damage would have been done to the economy.
"The top priority was to stop the country going bust and anybody who thinks anything else does not understand how serious the problem was," he said.
He also denied the party had gone back on promises made to students, saying what had been introduced was a "fairer system".
"If we get a fairer system where people pay upfront fees and they pay a progressive graduate contribution, which is like a tax, and for the majority graduates it's basically linked to the amount of money they earn," he said.
"That's a tax, it's not a fee system."