Work starts at former HP Sauce factory site in Aston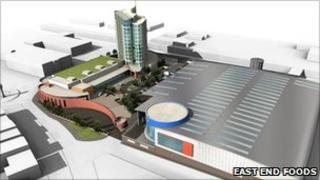 Work has begun to turn the former HP Sauce factory site in Birmingham into a wholesale cash and carry and spice distribution centre.
East End Foods bought the site in 2007 when Heinz US relocated production of HP Sauce to the Netherlands, making 125 workers redundant.
The factory in Aston was demolished in July 2007.
East End Foods said its £9m development would create 95 local jobs and help to regenerate the area.
Labour ward councillor Ziaul Islam said: "There is very high unemployment here. Anything that helps bring jobs to this area is a good thing and I welcome it."
As part of East End Foods' planning application the firm said recruitment would be targeted at people who had been out of work for more than 12 months.