Birmingham men survive Japan earthquake and tsunami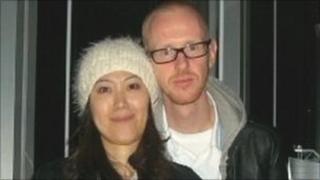 Two British men who had been reported missing in the Japanese earthquake and tsunami are alive, it has emerged.
Brian Hickebottom, 34, an English teacher from Birmingham, survived by taking refuge in the school where he works.
He remains there along with his wife Sanae, 37, and baby daughter Erin, aged five months.
Paul Harris, 54, also from Birmingham, took refuge in a basement in a department store in Sendai.
He had been giving a private English lesson when the quake struck.
News of Mr Hickebottom's safety was greeted with huge relief by his family, who had been wrongly informed he was dead.
His sister Emma Hickebottom said: "He managed to make contact saying he is safe. His baby and his wife are with him and they're stuck on the third floor of a school in Sendai.
"A couple of people who know him are going to try and drive out to the school in Tagajo but they don't know if they'll get there because of the conditions of the roads."
Ms Hickebottom, who lives in Cardiff, heard from her brother late on Sunday night after an "agonising" weekend spent waiting for information.
"I was very relieved," she said. "We'd had a spam email saying he was dead and we were very distressed. I came home to be with my parents but luckily Brian and his family are safe and it was just some sick person (who said he was dead)."
Mr Harris's mother Daphne Harris, 82, said he ventured out from the basement after only a few hours to make sure his partner, Kayoko, was safe.
"He wanted to contact his partner so he left the department store basement and returned to their apartment, which is up a mountain in Sendai," she said.
"Everything in the house that could come down had come down, but Kayoko survived by sheltering under the table."
Mrs Harris, who heard from her son on Monday, said she was "overjoyed" at the good news.
"A cloud has been hanging over us and now it's been lifted," she said. "I can't believe it."