US webcam child-abuse woman jailed for 20 years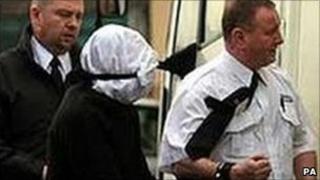 A woman who performed sex acts on a two-year-old child, directed via webcam by a man in England, has been jailed for 20 years by a US court.
Julie Carr, 33, of Bangor in Maine, also sent tapes of the abuse to the man in Walsall, West Midlands.
She was arrested in June 2009 when British police seized a memory stick from the recipient Nicholas Wilde.
Carr pleaded guilty in February 2010 to the production of child pornography and was sentenced in a court in Bangor.
Asperger's syndrome
US district judge John Woodcock told the federal court on Monday that the sentence was intended to protect people who could not protect themselves.
Four tapes, recorded in June 2009, were discovered by West Midlands Police when they arrested Wilde in connection with another child pornography case.
Carr and the child appeared in footage on the memory stick seized by police.
Wilde, from Holmbridge Grove in Walsall, pleaded guilty to making and distributing indecent images and inciting sexual assault on a child under 13.
Wilde, who has Asperger's syndrome and was 19 at the time of the offences, was jailed for four years and eight months in February 2010.