Homes for ex-service personnel built in Birmingham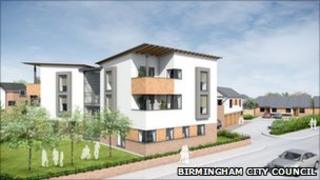 Family homes exclusively for ex-service personnel are set to be built in Birmingham, the city council has announced.
The authority said construction was due to begin on 12 new homes in Bartley Green. Priority will be given to injured servicemen and women.
It is in partnership with charity the Alderson Trust, which helps provide homes for disabled ex-military people.
The scheme is thought to be the first of its kind in England.
Injured in service
The Homes and Communities Agency and developer Galliford Try are involved.
Birmingham City Council's cabinet member for housing, Councillor John Lines, said the homes were the first of many planned by the partnership in response to the needs of homeless ex-service personnel.
A total of 706 homes are currently in various stages of development through the Birmingham Municipal Housing Trust, the house-building arm of the council.
The 12 new homes will be built on a 0.72-acre site near to the Queen Elizabeth Hospital.
Priority will be given to those who are injured in service.
Due for completion in 2012, the homes are a mix of houses, bungalows and apartments.
The Alderson Trust already owns 16 homes in north Birmingham and is funding the new homes, but the final costs of the project are not yet known.
The council has given the charity the plot for free and is planning to do the same with future pieces of land.
The homes will be run by the trust and available for families to rent.
Mr Lines said: "We are building homes for our heroes and their families because we believe there should be a priority for housing our brave ex-service personnel.
'One small step'
"In light of the recent conflicts in Iraq and Afghanistan, we want to support those brave men and women who have served in the military to protect our country.
"This is one small step we are taking to help tackle the demand for homes, which unfortunately, currently exceeds availability."
Sgt Roger Waters, 37, has served eight years in the Army and currently serves in the Territorial Army.
He has worked in the Balkans, Iraq and Afghanistan during his career.
He said: "It's great to see that something is being done to show that people actually care for those who have served in the forces.
"The fact that these homes will be available for people like me who are returning from duty is touching."