The Toy Hearts on playing America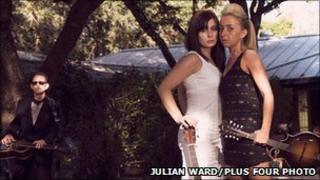 From Birmingham to Nashville, a local band has told BBC WM Introducing how its take on the bluegrass sound has gone down in the States.
The Toy Hearts recorded their latest album in Tennessee and have been playing across the pond for a number of years.
The band is fronted by sisters Hannah and Sophia Johnson, with their dad Stewart on banjo and dobro.
Double bass and fiddle complete the five piece line-up.
Hannah, Sophia, Stewart, Howard Gregory (fiddle) and John Potter (double bass) joined BBC WM Introducing presenters Brett Birks and Louise Brierley in studio for a live session.
The band was the brainchild of Hannah and Sophia who'd grown up listening to different styles of music because dad Stewart was a musician.
"When I was about 16 we decided we wanted to start a band with a bluegrass influence and dad was the only banjo player we knew, so that's how it all happened really," Hannah said.
With their roots in bluegrass, their style is a mix of musical genres including country, jazz, folk and blues.
"We mix the bluegrass with a lot more jazzy sound which is what has made a difference when we go to America. They think it's really quite wild that we're mixing it with jazz and stuff.
"It's bluegrass and swing, we kind of mix the two together liberally, we don't follow the rules," Sophia said.
And they're no strangers to playing the USA where Hannah said they got a really enthusiastic welcome.
"People are so welcoming that we're kind of taking this music over I guess with our European slant or British slant, and they see how much we enjoy playing it and that rubs off," Hannah added.