Japan rescue team from the West Midlands is praised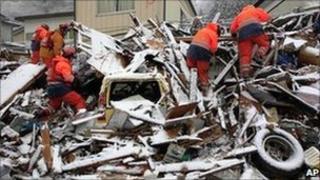 West Midlands firefighters have returned home following their relief mission to Japan.
Stephen O'Brien, International Development Minister, thanked the team for their work searching for survivors.
A group of 12 firefighters joined a team of 59 rescue specialists, two rescue dogs and four medical staff.
The search was called off after teams concluded there was an "extremely low" chance of finding survivors due to snow and falling temperatures.
The team spent three days searching the towns of Ofunato and Kaimaishi where tens of thousands are missing.
'Vital work'
They arrived back in Britain on Saturday afternoon.
Mr O'Brien said: "People in the West Midlands should be proud of the team's professionalism, dedication and courage.
"Through their vital work, Britain was at the forefront of assisting Japan in the aftermath of this terrible disaster.
"Despite cold, hard conditions the West Midlands Fire Service team worked relentlessly to search for survivors in the utter devastation of the earthquake and tsunami, providing much needed relief to Japan's own exhausted disaster teams."
The earthquake and the tsunami left a trail of devastation across a wide area of north-eastern Japan with the official death toll at 8,133, with a further 12,272 people missing.
West Midlands Fire Service Chief Fire Officer Vij Randeniya said: "Our teams are always ready to respond to emergencies anywhere in the world at short notice but we are always pleased to have them back safe and well.
"I cannot praise them enough for their dedication and commitment in carrying out this essential role especially in such arduous and stressful circumstances."