Mohammed Arshad murder suspect 'wrote about guilt'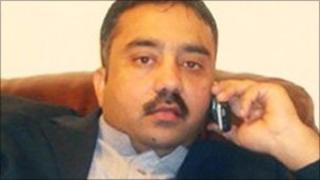 Notes written by a man accused of murdering a taxi driver described how much trouble he felt he was in and that he deserved to be caught, a court has been told.
Andrew Bayliss, from Birmingham, denies killing Mohammed Arshad in a country lane near the city in July 2009.
A notebook was found under Mr Bayliss's mattress after his arrest in November that year, Worcester Crown Court heard.
He said he was in the cab at the time but did not kill him, the court heard.
Mr Arshad, a 36-year-old father-of-three from Birmingham, was stabbed in the head in the attack in Wast Hills Lane, Kings Norton, close to the border with Worcestershire.
He died a day later in hospital.
'Net drawing in'
The court was told the notebook was found following Mr Bayliss's arrest, with the contents matching his handwriting.
Prosecutor Michael Burrows QC said Mr Bayliss, of Ratcliffe Avenue, had written that he "would rather die than spend life in prison".
Other excerpts included: "What happened was a mistake.
"I am in so much trouble. The net is drawing in. A long time ago I thought I was done for.
"I know I deserve to be caught but instincts are telling me to run and I am in so deep.
"I have wasted my life and destroyed others. I don't deserve anyone to be at my funeral."
Mr Burrows said Mr Bayliss will say someone else was with him at the time and he did not attack Mr Arshad.
"We now understand that he accepts that he was in the taxi with Mohammed Arshad and that he says that he intended to steal money from him," he said.
"But he says he didn't attack him.
"He will say there was someone else with him who did so and that he himself isn't to blame for what happened."
The trial continues.