Dudley Canal Tunnels named as heritage transport site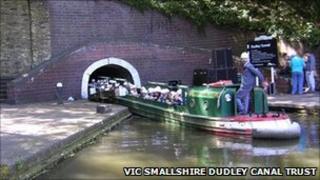 A historic network of canal tunnels in the Black Country has been recognised for its importance to Britain's transport heritage.
Once a vital link to limestone mines, Dudley Canal Tunnels have been restored and are now visited by tourists.
The network's significance has been highlighted by The Transport Trust with a special award.
A commemorative plaque will be unveiled to mark the tunnels' place in transport history.
Limestone link
The canal tunnel system runs for several kilometres beneath the streets of Dudley.
The main Dudley Tunnel was completed in 1792 to link Lord Dudley's limestone mines with the Birmingham Canal network and was later extended to meet the Staffordshire and Worcestershire Canal.
The limestone was important in the production of iron.
By 1840 the tunnel was used by 41,000 boats a year but with the development of the railways, canal use declined and the tunnel was closed in 1962.
Then local campaigners stepped in to restore the canal and reopen the tunnel.
Restoration
Vic Smallshire, from the Dudley Canal Trust, which was set up in the 1960s, described dredging thousands of tonnes of mud out of the canal and restoring locks to bring it back to life.
The trust now runs boat trips into the tunnels and limestone mines.
The Transport Trust has awarded it a Red Wheel plaque, which mark sites of historical interest.
President of the Transport Trust Sir William McAlpine said: "They [the Dudley Canal Tunnels] represent a perfect example of how years of work by dedicated volunteers has saved a piece of our great transport heritage."
Tony Hales, British Waterways chairman, described the Dudley Canal Tunnels as an "important aspect of local life".
He said: "Thanks to the wonders of 18th Century engineering and the perseverance and foresight of 20th Century volunteers, Dudley Tunnel remains as one of the most enduring landmarks on the Midlands canal network.
"This Red Wheel plaque recognises the efforts of those that built and restored the tunnel system as well as those who continue to promote and interpret it," he added.
The commemorative Red Wheel plaque will be unveiled at a ceremony in April.