Giving financial support to domestic abuse victims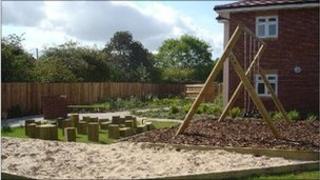 A woman from the Black Country says a new project giving financial help to victims of abusive relationships has given her her independence back.
The Haven in Wolverhampton supports women affected by domestic violence by providing accommodation and services, which now includes monetary advice.
One woman, known as Carol, was helped to get back on her feet financially after leaving an abusive relationship.
The Haven has been offering support since it was established in 1973.
Carol was married for more than 20 years but says she was financially controlled by her husband who did not allow her to spend any money.
"I didn't realise at the time, everyone said to me 'I wish my husband would do the shopping' but the choice was completely taken away," she told BBC WM.
Abusive relationship
With no credit cards or bank accounts in her name, Carol says she was left penniless when her relationship ended.
"I'd got nothing. I hadn't got a penny, nothing at all," she said.
"When I went to The Haven I was stuck. I didn't know how to handle money because I'd never had it."
The centre has five refuges across Wolverhampton all providing temporary and emergency accommodation.
Carol said the support she received at the centre has made a huge difference in getting her life back on track.
"They helped me to budget and pay bills because I hadn't got a clue. They got me a house and helped me to start a new life and give me that independence back," she said.
"It's wonderful because I can buy anything I want now."
The Haven has been given a three-year contract to help women cope with the financial fall-out of leaving an abusive relationship.
Tracy Groom, a co-ordinator at the centre, said it was an important step forward.
"When we look at domestic violence we don't look at the financial aspect but it's the big, new thing," she said.
"By helping them this way they don't go back, either to the same partner or another partner that does the same thing to them."