New bridge set to span Wolverhampton ring road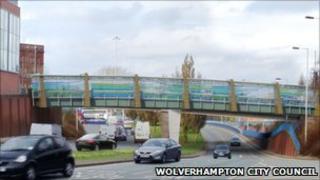 Wolverhampton City Council has revealed plans for what it calls a new "landmark" bridge that will be installed over the city's ring road.
The £1.8m footbridge will link the new bus station with the existing railway station.
Installation is due to take place overnight and at weekends but the council says a section of the road will need to be closed at times.
Work will start on the night of Saturday, 9 April.
The 115ft (35m) long pedestrian walkway will stand 20ft (6m) above Ring Road St Davids and is part of the city's project to link its public transport stations.
The council said work to install the bridge was scheduled to last three weeks and a section of the ring road between Broad Street junction and Bilston Road island would be shut at times when the work is being carried out.
Walkway artwork
The first closure will take place from 2100 BST on Saturday, 9 April and reopen at 0700 BST on Monday, 11 April.
Over that weekend, the bridge will arrive in Wolverhampton in sections on seven lorries.
Architectural glass artist Kate Maestri has been commissioned to produce artwork for the walkway, which will be partially covered.
Glass coloured with green and blue will run along one side of the structure, which is due to open in the summer.
Wolverhampton City Council said access to the railway station via the Broad Street junction and Fryer Street would still be possible throughout the works.
Full details of the road closures can be found on Wolverhampton City Council's website.