Bird numbers rise after work at Halesowen beauty spot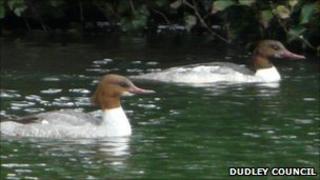 A Black Country beauty spot is putting an increase in bird and waterfowl numbers down to conservation work at the site.
The Leasowes in Halesowen has reported an increase in kingfishers and herons.
Assistant warden Ewan Chapman said there had also been "significant" numbers of goosanders, which is a type of duck.
He added for an urban reserve some "unusual numbers and unusual species" had been spotted.
He said considering the nature reserve was a small pool on the fringe of an urban area, "quite unprecedented volumes" of goosanders had been seen.
"Whereas we only ever saw solitary kingfishers very occasionally, now we're seeing two to four on a more regular basis and that's the same with the herons as well," he added.
'Safe haven'
Cormorants, little grebes and great crested grebes have also been spotted at the site.
"They're the sort of birds that occasionally come through and we get them once or twice perhaps every couple of years but this year, certainly since we've done work on the pool, we just seem to have had an influx," Mr Chapman said.
Grant money was used to fence off a patch of woodland by the edge of a pool to create a conservation area and reed beds were planted.
Mr Chapman added: "Since then, there's been an area that's totally undisturbed for the wildfowl and the birds... a safe haven."
The wardens worked with the Friends of The Leasowes, community groups and local children on the project.
Mr Chapman concluded: "To see the fruits of our labour and the kids who've been involved, to see the increase in wildlife, particularly birds that aren't common, it's extremely satisfying."