Handsworth bank robbers jailed indefinitely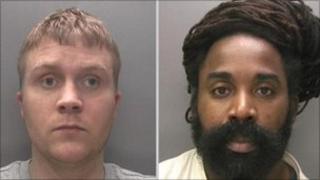 Two Birmingham men have been jailed indefinitely after they used a digger to smash into a bank and carry out an armed robbery.
Norman Grant, 44, from Handsworth, was found guilty of robbery, kidnap and possession of a firearm by a jury at Birmingham Crown Court in March.
Luke Daly, 26, of Sutton Coldfield, admitted robbery but was cleared of kidnap and possessing a firearm.
Grant must serve at least 21 years while Daly will serve at least 11.
They were jailed at Birmingham Crown Court on 15 April.
Three other men accused of offences in connection with the incidents were found not guilty at the trial.
Both men were arrested after a police operation was launched to investigate an armed robbery at the UAE Bank in Soho Road, Handsworth, on 12 January 2010.
The robbery began with the theft of a small digger used for grave digging at Handsworth Cemetery.
Three workers at the cemetery were tied up before the digger was driven off and used to ram a window at the bank.
'Despicable criminal act'
The offenders, some armed with handguns, then threatened three bank staff who were forced to hand over £21,000.
Det Insp Verley Tyndale, from West Midlands Police, said: "This was a despicable criminal act that was carried out at two locations, with the gang carrying at least two sawn off shotguns.
"They were prepared to use a high degree of violence against staff at two separate locations to steal from those premises.
"Innocent people were threatened, and in their attempts to get away people could have been killed or seriously injured."