Isaiah Young-Sam: Lozells riot murder accused cleared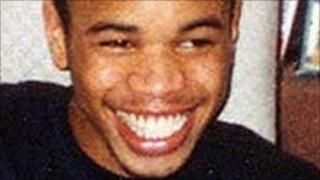 An Asian man has been cleared of murdering a black man during race riots in Birmingham.
Isaiah Young-Sam, 23, suffered a stab wound to his chest when disorder broke out in Lozells on 22 October 2005.
Mohammed Shazad, 28, of Holly Road, Handsworth, Birmingham, denied murder, manslaughter and wounding.
A jury at Birmingham Crown Court found him not guilty of all charges. It is the fourth trial to have taken place over Mr Young-Sam's death.
Youths from the black and Asian communities were involved in the riots of 2005 that resulted in Mr Young-Sam's death.
Quashed convictions
Several people were assaulted and some shops were looted.
In a previous trial in 2006 three men, Waqar Ahmed, Azhil Khan, and Afzal Khan, were convicted of murdering the Christian IT analyst.
They were sentenced to life in prison and ordered to serve a minimum term of 25 years each, but an Appeal Court judge quashed the verdicts in December 2008 because evidence had been wrongly used.
A secret recording of one of the men encouraging another defendant to confess had not been disclosed to the defence.
As a result, the convictions of all three men from Handsworth, Birmingham, were deemed to be unsafe.
All three were retried for murder in January 2010 and cleared by a jury the following month.
Public interest
West Midlands Police said all prosecutions were rigorously tested against the Crown Prosecutors' Code.
A force spokesman said: "The reviewing lawyer has first to decide whether there is enough admissible evidence to provide a realistic prospect of conviction.
"If the evidence satisfies the first test, then the lawyer has to consider the second test - the public interest test."
The force said Mr Shazad's case had passed both tests, adding that police and the CPS respected the not guilty verdicts returned by the jurors.