Plans for £180m Birmingham university campus approved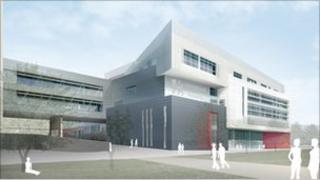 The first phase of a new £180m campus for a Birmingham university has been approved by the city council.
The 18,000 square metre City Centre Campus near Millennium Point will be a purpose-built venue for Birmingham City University's Institute of Art and Design.
It will also house TV, radio and photographic studios as part of the university's media production courses.
Work on the campus will start in autumn 2011 and be ready for September 2013.
Professor David Tidmarsh, vice chancellor of the university, said: "We are delighted the city has backed our plans at Eastside because they signal a real commitment by Birmingham City University to create the best learning experience possible for our students.
"This City Centre Campus has been designed to provide a landmark building - one that will stand out as a learning facility that offers first class student experience which, in turn, produces graduates with high levels of employability."
The five-storey structure, which was designed by Associated Architects, will also have a specially designed roof that will provide a habitat for birds and insects.