Solihull retailers trained to tackle crime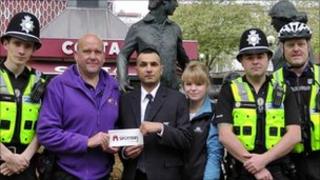 A scheme aimed at reducing crime in Solihull has led to four people being banned from the town.
The Solihull Prevention Of Theft Together Ensuring Retail Safety group, or "SPOTTERS", aims to reduce, prevent and detect retail crime.
Retailers signed up to the scheme receive training to help them tackle shoplifting in their stores.
Solihull Police said the initiative had seen four serial thieves given Criminal Anti-Social Behaviour Orders.
'Share intelligence'
The orders ban them from entering the town centre.
Retailers are given retail radios to help them communicate with each other on the suspicious activity of individuals and track their footsteps across the town centre.
Sgt Kirk Whitehouse said: "To tackle offenders committing crime in the town centre and to protect shoppers, we share intelligence of those offenders regularly committing retail crime with the retailers signed up to the SPOTTERS scheme.
"In working together we aim to ensure Solihull remains a safe and pleasant place to visit."