Meriden protesters 'changing traveller planning policy'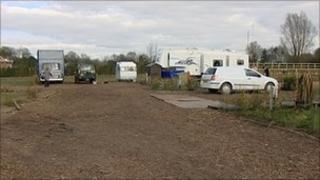 Residents manning 24-hour protests against an unauthorised traveller site have claimed their campaign is helping to change government policy.
Villagers in Meriden, West Midlands, started their protests on 1 May 2010 when a group of up to 50 travellers began developing Eaves Green.
Residents Against Inappropriate Development (Raid) is fighting the development through the courts.
It is also being consulted on plans to change government planning guidelines.
The travellers previously said there was inadequate provision for them in the area.
They applied for retrospective permission to build 10 permanent pitches for their caravans on greenbelt land owned by Noah Burton in Eaves Green.
'Achieved a lot'
Planning permission was refused by Solihull Council in July 2010 but the travellers have appealed against the decision, which is the subject of an ongoing public inquiry.
David McGrath, Raid spokesman, said the group wanted to make the issue a test case to influence traveller planning policy across the country.
He said: "We have achieved a lot in the 12 months we have been holding a vigil.
"We are fighting this development through the courts but we don't want to just resolve this situation for ourselves and to hell with everyone else, this is happening all over the country.
"The government has identified a pressing need to reform traveller sites' planning system and we have linked up with 40 villages across the country to raise the profile of unauthorised developments.
"I think the government has responded to this and other things."
Previous guidelines issued by the Labour government in 2006 made travellers a special exception for some greenbelt development.
Secretary of state Eric Pickles said the current policy did not work and there was a widespread perception that it was unfair.
The new guidelines identify the need for more traveller sites and emphasise early consultation between councils, settled residents and the travelling community about the best place to provide new sites.
The public consultation ends on 6 July.