Lord Lloyd Webber's TV visit to Wolverhampton house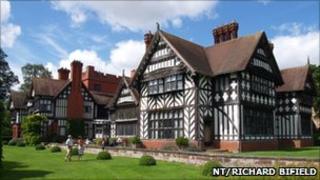 A Victorian Wolverhampton house has played a leading role in a television programme presented by Lord Andrew Lloyd Webber.
Lord Lloyd Webber visited Wightwick Manor for a documentary about the Pre-Raphaelite art movement.
Learning manager at the manor, Lynn Hawthorne, said he was "incredibly enthusiastic" about the property and its collection of paintings.
Wightwick Manor was built in 1887 by industrialist Theodore Mander.
'Extraordinary place'
Lord Lloyd Webber filmed at the National Trust-owned house, which is set in 17 acres of gardens, for ITV1's Perspectives series.
Mrs Hawthorne said there were two paintings that really caught his attention.
One was Love Among the Ruins by Birmingham-born artist Edward Burne-Jones, and another called The Mourners by Evelyn De Morgan.
Lord Lloyd Webber said he was moved to tears by what he discovered at the manor.
He said: "I just cried going round here because this Wightwick Manor is the most extraordinary place I think I've been to in so many years I can't even count them.
"It's alive, this place is not some museum at all, it's about a whole family's passion for Victorian art ."
The property has also recently featured in a BBC Four programme that looks at how homes and rooms have changed over the years.
The Victorian manor's grand living rooms were captured on camera for If Walls Could Talk: The History of the Home.