Fire-hit Harborne Primary School 'unsafe'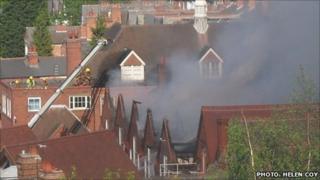 A junior school in Birmingham has been deemed structurally unsafe after fire ripped through the building.
Harborne Primary's junior school will remain closed after the fire in the roof, which was tackled by more than 60 firefighters at its height on 27 April.
The infant school is set to reopen on Friday.
The city council said it could not confirm when junior school pupils would return and options were being reviewed "in the short, medium and long term".
Year 6 Sats exams are to take place at Martineau Centre from next week, with an induction session for all pupils this Friday.
Staff and children managed to move to places of safety after the fire broke out in the afternoon and Station Road, Emerson Road and Wentworth Road were closed for a time.