Bengal cats worth thousands stolen from breeder's home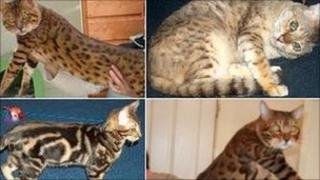 A Wolverhampton cat breeder is appealing for the return of her pedigree Bengal cats after thieves stole them from her home.
The four animals were taken from Michelle Hibbs' garden in Goldthorn over the Easter weekend at some point between 0730 and 1830 BST on 23 April.
Mrs Hibbs, 55, has since been reunited with one of the cats, Simba, after he was handed in to a vets' in Much Wenlock, Shropshire, on 3 May.
But the others remain missing.
Simba was traced through his microchip.
She is hoping someone will come forward with information about the whereabouts of her other cats, Leo, Akidi and Ba.
Bengal cats are a distinctive breed of cat and have "wild-looking" markings such as large spots, rosettes, and a light/white belly.
Seven-year-old Leo has brown marble markings while two-year-old Akidi and five-year-old Ba have brown spotted markings.
A spokesman for West Midlands Police said as well as their sentimental value, they were also worth thousands of pounds.
Mrs Hibbs said: "I can't understand how people can be so cruel. It's so distressing to know that they've been taken.
"One of the cats belongs to my granddaughter and she is very upset - we are just trying as hard as we can to locate them."