Restored 130-year-old Birmingham factory to reopen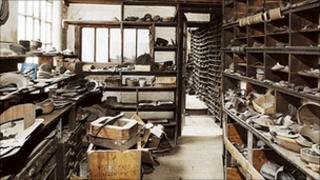 A 130-year-old silverware factory which faced becoming derelict or being sold off is to reopen after English Heritage stepped in to save it.
JW Evans, in Albion Street in Birmingham, made tableware from the 1880s to 2005 but closed due to a decline in demand for silverware and cheaper production in South East Asia.
"The building's contents were protected and stayed exactly where they were - even the dust," English Heritage said.
It is to open for tours in June.
'Lost world'
English Heritage conservator Beth Stanley said everything from machinery tools to the last orders pinned on the office walls were still there when they arrived.
"When we first walked into the building it was like entering a lost world," she added.
A spokesman from English Heritage said: "The factory is redolent with the atmosphere of its 130-year history."
JW Evans is one of the last remaining workshops with examples of the silverware made there, it added.
Dr Simon Thurley, chief executive of English Heritage, said: "The loss of JW Evans would have been a loss not just to Birmingham but to the world."