Hotel to house fire-struck Harborne school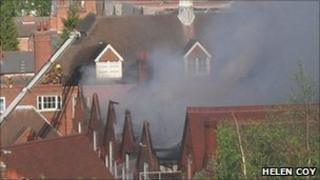 School pupils are set to have lessons in a hotel after their school was deemed to be structurally unsafe.
Harborne Primary School's junior department was badly damaged when a fire ripped through the roof in April. The infant school reopened on Friday.
Nearby Harborne Hall could be the new junior school for the next six months.
Headteacher Mark Slater said the hotel had extensive grounds, many conference rooms, a large hall and enough room to house its 12 junior classes.
"Our wish has always been to keep the children together in one place and we believe this is a very good location with facilities which will meet our current needs," he said.
Pupils are due to report to the hotel on Tuesday.