Car ends up on roof in garden of Moseley home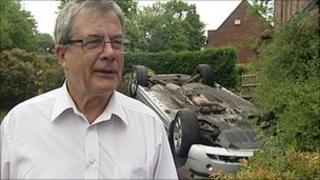 A car has crashed through a garden and come to rest at the front of a house in Birmingham.
Dr Felix Burden said the car left the road and ended up on its roof in his garden on Wake Green Road by Sarehole Mill in Moseley on Saturday.
The driver was slightly injured but minutes earlier, Dr Burden said his wife and young grandchildren would have been in the car's way.
He described the stretch of road as a notorious accident blackspot.
"If it rains after a dry spell, the road becomes impossible to drive safely on," he said.
"Whenever it rains, we have a car hit bus stops, street lamps, telegraph poles...we've had another car previously come through the front garden and our neighbour had a car go into their garden.
"We've got an old people's home quite close to us and the ladies are very frightened of walking along the pavement," added Dr Burden.