Leonardo da Vinci drawings set for Birmingham display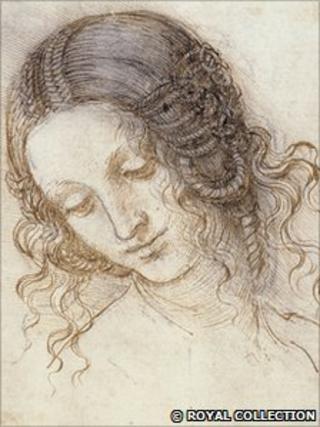 Ten drawings by Leonardo da Vinci are to go on show in Birmingham to celebrate the Queen's Diamond Jubilee in 2012.
The works are being loaned to the city's Museum and Art Gallery by the Royal Collection.
They have been chosen to show the range of the Renaissance master's techniques and interests such as botany, engineering and map making.
Birmingham will be the first of five cities to exhibit the drawings.
'Extraordinary range'
Exhibitions manager at Birmingham Museum and Art Gallery, Andy Horn said Leonardo da Vinci was an important figure because his work "was beyond what everybody else was doing at that time".
He said: "You think of him in terms of the Mona Lisa, as a painter but actually he had an extraordinary range of interests.
"He was a designer, an architect, he was interested in botany, anatomy, in engineering."
"I think one of the things that's exciting about these [drawings] is because they came from his studio, they're drawings that he kept all his life because he really valued them," Mr Horn added.
The Royal Collection contains around 600 drawings by the Italian artist.
The exhibition of the 10 works of art to mark 60 years of the Queen's reign will be held in Birmingham between 13 January and 25 March 2012.
Rita McLean, head of Birmingham Museums and Heritage said: "This will be a rare and extraordinary opportunity for local people to see works by one of the world's greatest artists, as part of the city's celebrations of the Queen's Diamond Jubilee."