New deanery proposals put forward in Wolverhampton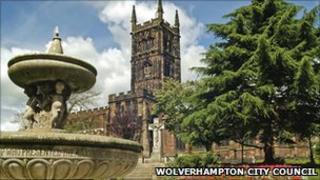 The Church of England has put forward plans to create two new deaneries, or groups of parishes, in Wolverhampton.
Under the proposals the existing single Deanery of Wolverhampton would be dissolved.
The local parishes would then be divided to come under a new Deanery of Wolverhampton or a second Deanery which would be called Wulfrun.
The proposed changes have to go through a formal consultation period before being implemented.
The existing large Deanery of Wolverhampton is currently divided into five working areas because of its size.
That would change under the new proposals for the two new deaneries.
There has been an informal consultation amongst churches in Wolverhampton and there is a period of formal consultation before the Bishop of Lichfield can sign the order which would bring in the new deaneries.