Cancer inpatient services move to new QE Hospital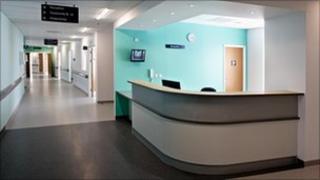 The transfer of cancer inpatient services has marked the start of the fourth phase of six moves into the new Queen Elizabeth Hospital in Birmingham.
The chemotherapy and haematology day unit is relocating to the new £545m site.
The building in Edgbaston is replacing the old QE and Selly Oak hospitals.
"Although move four is much smaller than the first move, it is by no means less important," the hospital's chief executive Julie Moore said.
"It will see the transfer of some of our most vulnerable patients into the new hospital as well as our renowned cancer services," she added.
The new unit comprises 46 beds along with improved facilities including dedicated clinical rooms, a chemotherapy dispensary and consultation rooms.
The fourth phase of the transfer will be completed on Wednesday 11 May when the bone marrow transplant unit, young persons unit and wards from Harborne and Bournville move in.
The new QE Hospital opened its doors in June 2010 with the transfer of the accident and emergency department and will be fully operational by June 2012.