Birmingham Centenary Plaza flat drug den raided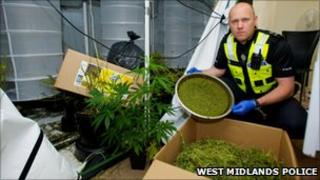 Officers have raided a cannabis factory in a "lavish" Birmingham city centre apartment.
They found a "large-scale cannabis factory" with sophisticated growing equipment in a flat in Centenary Plaza, in Holliday Street, on Monday.
They also found some crushed cannabis and a number of plants with a street value of about £10,000.
No arrests have been made yet as no-one was in the flat at the time of the early morning raids.
Sgt Wayne Reynolds said: "We are working hard to tackle drug-related crime across the Ladywood ward and Birmingham city centre.
"It would appear that we have discovered this drugs den at a crucial moment. Much of the cannabis may have found its way onto the streets of the city within a few short days."