Lickey Hills hopes plant disease is 'contained'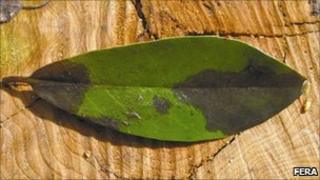 Experts are hopeful that a plant disease found at a West Midlands beauty spot has been contained.
Two sites at the Lickey Hills Country Park, south of Birmingham, have been affected by Phytophthora ramorum.
People are being asked to keep out of those areas because it can be spread to other plants on shoes and by dogs.
Dr Keith Walters from the Food and Environment Research Agency (FERA) said it was early days but the news was "cautiously good".
The fungal-like organism can cause serious damage to a number of trees and shrubs and can be spread if spores from an infected plant come into contact with a healthy plant.
Cordoning off
It was found on rhododendron and bilberry at two sites in the park during routine screening.
Dr Walters said that after it was discovered in April, plants were treated and surveys were being carried out to discover if the disease had spread.
"The good news is, the treatments have been successful, full marks to Birmingham [City] Council who've been working with us on this and did the treatments themselves."
He added: "Our surveys are under way and so far so good, but early days, we will be keeping a very close eye on this site to make sure that we don't miss anything."
Jane Barbrook, who is also from FERA, said at present the disease was confined to two areas.
She said staff at the site had responded very quickly by cordoning off the areas and putting notices up to inform the public.
"We've done everything possible that can be done to minimise the risk of spreading it any further," she said.