Birmingham monument to be modelled on local family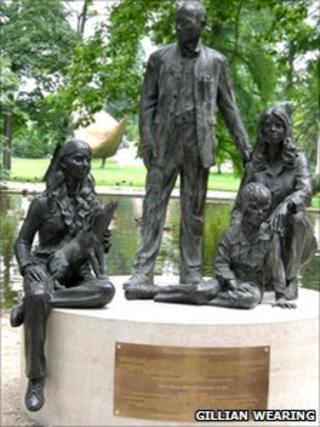 A Birmingham gallery is looking for a family to model for a sculpture that will become a new city centre monument.
Turner Prize-winning artist Gillian Wearing, who is behind the project, will craft the life-size bronze statue.
A "celebration of local residents", it will be placed in Centenary Square near the new Library of Birmingham.
The Ikon Gallery said a family could be defined in different ways and could include single people.
"Refreshing" work
The project is called A Real Birmingham Family and the gallery said it was about representing how the 21st Century family might be symbolised in the city.
Ikon director Jonathan Watkins said it would be "refreshing" to have "a civic sculpture that celebrates the nature of everyday life rather than historically sanctioned individuals".
Gillian Wearing, who won the Turner prize in 1997, said: "It is the historic moment to ask ourselves what a family is, because the common visual concept is the one which comes from the media, an artificial image which has nothing to do with a real family."
The Birmingham-born artist will also be on a panel which will choose the winning family when nominations close in April 2012.
The sculpture will be unveiled to coincide with the opening of the new Library of Birmingham in 2013.
Assistant director of culture at Birmingham City Council, Brian Gambles, said: "The Library of Birmingham is very much being built for, and with, the people of the city in mind, so it is fitting that this sculpture should feature those same people so strongly."