Oldbury College of Sport head teacher in head-butt row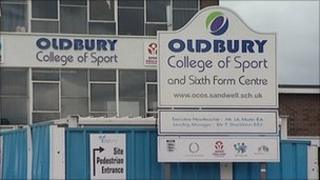 Update April 2016: John Martin and the other teacher involved returned to their posts after it was found there had been no wrongdoing. The pupil involved in the allegations was permanently excluded from the school.
A head teacher at a Black Country secondary school has been suspended for allegedly head-butting a pupil.
John Martin, who is in charge of Oldbury College of Sport, has been relieved of his post while the claims are investigated.
Sandwell Council said he had been suspended along with another senior member of staff.
Police said detectives were investigating allegations of physical assault and inquiries were continuing.
'Neutral act'
Councillor Bob Badham, Sandwell Council's cabinet member for children and families, said: "The head teacher and a senior member of staff at Oldbury College of Sport have been suspended and a thorough investigation will take place.
"Suspension is a neutral act which carries no presumption of wrongdoing.
"We would not comment further on a staff matter at this stage."
He added the chair of governors, Sally Harvey, had stood down but had not resigned and the vice chair of governors had taken her place while the investigation was carried out.
"The day-to-day running of the school will not be affected as there is a strong management team in place with able deputy heads," he said.