Gecko travels 120 miles from West Midlands in parcel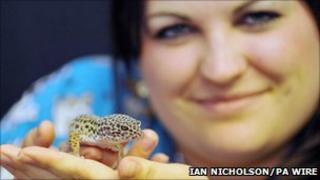 A gecko was sent on a 120-mile journey from the West Midlands to Berkshire after it climbed inside an envelope.
Sahara, a leopard gecko, sneaked into an open parcel at his owner's home in Stechford, in Birmingham, on 11 May.
He spent two days inside the envelope, along with a belt that had been bought on internet shopping site eBay.
Sahara was discovered when he arrived at the home of Phillipa Durrant, 44, a mother of seven, from Finchampstead, near Wokingham, in Berkshire.
She took the reptile to a vet, where he was given the all-clear despite his ordeal.
"My daughter opened the envelope and came running upstairs saying 'there's something alive in the package'," she said.
"I was worried that it might be poisonous but we soon realised it was harmless.
'Absolute pandemonium'
"We decided the best thing to do was to take the gecko to the vet as it was cold and looked a bit limp after its journey."
Mrs Durrant had bought the belt from Sahara's owner, Lisa Richardson.
The package containing the belt had been left near the reptile's tank and he had somehow crept inside before the envelope was sealed and put in the post.
Ms Richardson, 33, said: "We didn't realise Sahara was missing until we went to feed him later that night.
"There was absolute pandemonium once we realised Sahara was missing, we cut the bottoms of the sofas to see if he was stuck in there, we were up until 0200 BST looking for him.
"Then the e-mail arrived the next day from Phillipa saying, 'Hi Lisa, received the belt in the post, only one problem - there's a live reptile in the parcel'."
The gecko will now be returned to Birmingham via courier.
Vet Chris Queen, from the Nine Mile Veterinary Group, said: "Sahara was in an absolutely fantastic condition when we examined him considering the ordeal he had gone through.
"He must have been kept quite warm in the package which was well insulated, also the envelope had not been damaged in transit, all of these factors would have helped him, so well done Royal Mail."
Mrs Richardson was in for a further surprise when the vet informed her the gecko, which she thought was female, was actually male.
She said she now intends to rename him 'Bidders'.